LuvFree Community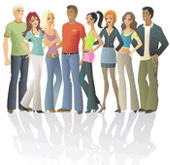 Quick Advice
What are friends?
Any user of our free dating site can become your Friend with whom you are messaging or have friendly relationship. All your friends will appear in "Friends list", which can be seen on your profile page. On our site there is a limit to letters sent in 24-hour period. This was necessary to deal with spammers and scammers. But you can exchange letters without any limit with users from your "Friends list". That's what makes it great thing "Friends". See 24 the most polite and most friendly users on the main page of our web site.

Read more

All what you need in LOVE is
All what you need in LOVE is
by Bella33, Feb/10/2012 7:36AM

You don't need someone who will complete you...BUt you need someone who will accept you completely....


happy heart month to all....