LuvFree Community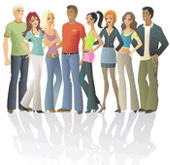 Quick Advice
How to report scam or spam on your site?
You can contact us by clicking "Contact" in the navigation menu, or use "report profile" function. (More info on this read on page
8.17
)

Read more

Handle yourself properly
Handle yourself properly
by Liza, Mar/18/2017 10:27PM

To most of the ladies who holds their dignity.. Dont lose it no matter what. There may be 1 out of 10 men here that can respect you with the things you reserve the right not to give.. Be straight forward. If you dont want to be used and get abused DONT GIVE IN. I'm not trying to save the world, im trying to preserve what is left.
Comments
[?]
By Gab, Mar/18/2017 3:17PM

Yeah, I agree!..theres nothing wrong to be direct ,it is how men deal with it!..


By Crea8j, Mar/20/2017 10:59PM

They deal with it by deleting you or just don't have you on there "communicator" or there friends list...which if they have to do that they are not worth it :)


By Gab, Mar/21/2017 5:21AM

thats not a problem...why complicate the situation? if they gonna delete, then thats FINE!world still gonna revolve! lol!