LuvFree Users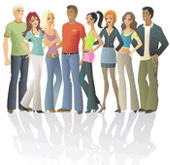 Quick Advice
What virtual kisses are for?
You can look at "Virtual kiss" like the tool to begin a conversation. In a lot of cases it is difficult to write a letter first. So by sending a "Virtual kiss" you can let the person know that you are interested in them.

Read more

Girls
Girls
by Moss578, Feb/15/2012 9:02PM

Why is it that when a girl looks at me she sees how big I am and turns the other way but truth of the mater is she didnt see the big heart hidden inside and she missed out on a great person if u want to no my past i will tell u only because i do want a serious relationship any comments
Comments
[?]
By Lusi, Feb/17/2012 12:19PM

Hi ... I'm guessing you have not found the girl of your dreams. Not yet.You are still young. I believe 100% you will soon find the girl of your dreams. Just be patient. Would not it be nice if you could find a girl who loves you as who and what you are? Which means she will accept your strengths and weaknesses? That is true love ....