LuvFree Community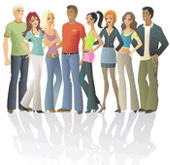 Quick Advice
If I deleted the received message will it be deleted from outbox of sender?
No. If you deleted received message it will stay in the outbox of the sender. By receiving message you can delete it from your inbox but not from outbox of the sender.

Read more

Girls
Girls
by Moss578, Feb/15/2012 9:02PM

Why is it that when a girl looks at me she sees how big I am and turns the other way but truth of the mater is she didnt see the big heart hidden inside and she missed out on a great person if u want to no my past i will tell u only because i do want a serious relationship any comments
Comments
[?]
By Lusi, Feb/17/2012 12:19PM

Hi ... I'm guessing you have not found the girl of your dreams. Not yet.You are still young. I believe 100% you will soon find the girl of your dreams. Just be patient. Would not it be nice if you could find a girl who loves you as who and what you are? Which means she will accept your strengths and weaknesses? That is true love ....