LuvFree Users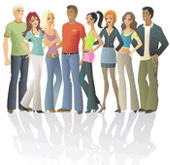 Quick Advice
What virtual kisses are for?
You can look at "Virtual kiss" like the tool to begin a conversation. In a lot of cases it is difficult to write a letter first. So by sending a "Virtual kiss" you can let the person know that you are interested in them.

Read more

Hello world
Hello world
by yewi, Feb/06/2012 10:54AM

Ok, im online for a few days now and i meet some nice people.
But i found out that im really shy to talk to men.
Im afraid that they will thing that i am easy...

For frienship i think i found so fun people, but the love of my life...no....




The weather isn't reallt great here and so i have to do alot of work with the animals outside.
Reason why im not much online.
Maybe when it stops i have the time again to really look around.
Where on this world is walking a really great guy, how loves children and animals.
How wants to charm me into the futher ?
Where are you !!!
Comments
[?]
By oneonone, Mar/12/2012 5:09PM

Hi sweet stranger!If u really want to find true love,you will...Someday!!!Just keep looking...Bye