LuvFree Users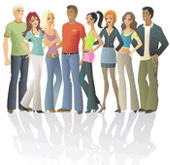 Quick Advice
How to hide/make visible my profile?
You can make your profile not visible for visitors and users of our site. For that you will have to log in using your nickname and password. After that you will end up on "My Panel". On that page press button "Suspend" which is located under "Profile status" in the right top column called "Info". How status of your profile is "Suspended". In this case your profile becomes invisible for visitors and users of our site. Later you will always be able to activate it back to become visible by pressing "Activate".

Read more




New Blog Posts

I'm back again
by Wyldnight, Sep/21/2014 2:27AM

Well, I tried my hand at love again and it didn't work out. So I'm back here to find the one I was meant to be with for the rest of my life. Despite this minor setback, I still have a rather positive ... more

bored
by deafhearing, Sep/13/2014 1:15PM

I am bored any ladies care chat with me? let me know I am online right now.


Five Levels of Hangovers
by blackwell1477, Sep/03/2014 4:55AM

One Star Hangover (*) No pain. No real feeling of illness. You're able to function relatively well. However, you are still parched. You can drink 5 cokes and still feel this way. For some reason, y ... more

looking for good human
by nick1960, Aug/30/2014 3:39PM

looking for serious relation

hi please know lies or games or drugs if you do ill dont want you think you
by boyd8888, Aug/27/2014 1:47AM

hi i want the real deal I'm looking for a lady not a one night stand ok so you little girls i don,t want you I want a lady and you got to be it the U.S.A if not pass me by ok ill not answer you ok and ... more