LuvFree Users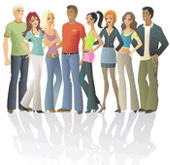 Quick Advice
How to turn on/off notifications on my e-mail about new messages?
Log in using nickname and password. Click "My profile" in the top navigation menu. Around the middle of opened page you will see "Notify me about new messages, kisses". Choose wanted option. Click "Save Changes", which is on the bottom of page. It's done!

Read more




New Blog Posts

outlaw4life
by outlaw18, May/22/2015 5:08PM

i have no pic but if u girls want 2 see wat i look like i have a face book message me 4 my facebook name thank u

chat room
by Woodsll, May/17/2015 4:41AM

How come no one uses the chat room here anymore? Please give an answer why you don't, would be nice to know the reasons!

single
by Andy88, May/08/2015 5:02AM

im single and starting to think its me im a kinda respectful loyal guy but it seems like the ladies quit talking before anything real what am i doing wrong

hello
by d4vid, May/02/2015 6:31PM

1 comments

im single and not likeing it. I just don't know how to talk to the ladies HELP!!!!!!!!!!!

LOOKING FOR A GIRLFRIEND AND A SPORTS PARTNER!!.
by MICKEY4615, Apr/30/2015 1:42AM

ATTENTION TO ALL CHICAGO AND OAKPARK, IL WOMEN THIS IS CHARLIE IS LOOKING FOR A GIRLFRIEND AND SPORTS PARTNER.