LuvFree Users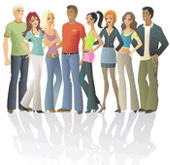 Quick Advice
What is primary photo?
Primary photo is the first photo that is in the list of all your photos. It's especially is that is the front photo in your profile and first seen by search results. Another word primary photo is the face of your profile. So you try to put your portrait primary photo.

Read more




New Blog Posts

JOKE TIME
by Dan66, Feb/20/2015 2:59AM

Little April was not the best student in Sunday school.Usually she slept through the class.

my life
by Dan66, Feb/15/2015 8:45AM

I live by myself so it gets lonely somedays...Been trying to find work but there is none......

you have any

where a man can get a job??


kindred spirit
by tapwater, Feb/02/2015 7:27AM

I AM SO TIRED OF BAGGAGE ,ALL THERE LOOKING FOR IS JOHNNY ON THE SPOT SOMEONE TO FILL THE ROLE OF A FATHER OR A BREAD WINNER I HAVE DONE IT BEFORE AND IT IS NOT LOVE IT IS BEING USED, I AM SEEKING A W ... more

Dating.
by ALEX44, Jan/08/2015 10:18AM

On this site a lot of people and it is very difficult to find your soul mate. But I hope I'm lucky and everyone who is looking for love here, too lucky to find her.

Happy New Year 2015 !!!
by ALEX44, Jan/05/2015 6:49AM

Happy New Year 2015 !!! All a lot of happiness, peace, joy and kindness !!!