LuvFree Users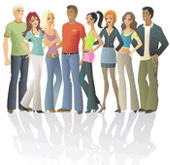 Quick Advice
What virtual kisses are for?
You can look at "Virtual kiss" like the tool to begin a conversation. In a lot of cases it is difficult to write a letter first. So by sending a "Virtual kiss" you can let the person know that you are interested in them.

Read more




New Blog Posts

lets bullshit for a little
by banana000, May/25/2015 2:40AM

Whats your hobby? Hows your day going? How was your weekend? Watch any good movies lately?

Build friendships
by Babyjoey, May/24/2015 10:27PM

As I read over these blogs, donít feel discouraged in that you donít get a reply or that special someone may not be on here that is right for you. Just be yourself and chat with folks. Talk and have f ... more

outlaw4life
by outlaw18, May/22/2015 5:08PM

i have no pic but if u girls want 2 see wat i look like i have a face book message me 4 my facebook name thank u

chat room
by Woodsll, May/17/2015 4:41AM

How come no one uses the chat room here anymore? Please give an answer why you don't, would be nice to know the reasons!

single
by Andy88, May/08/2015 5:02AM

im single and starting to think its me im a kinda respectful loyal guy but it seems like the ladies quit talking before anything real what am i doing wrong