LuvFree Users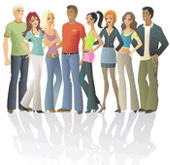 Quick Advice
The user is asking me for money. Can I give it to them?
No. Never send money to people you don't know! If someone is asking for money or offers to receive money it is scam! Remember that many scammers are really good psychologists and know what to say in order to get some of your money.

Read more




New Blog Posts

ladies
by Andy88, Mar/03/2015 10:49PM

is there anyone women here actually looking for a serious relationship if so you can always message me lol every girl i tend to talk to isnt looking for a relationship i think it defeats the purpose o ... more

new here
by we3029, Mar/03/2015 9:11PM

not sure if this is goin to help bu will try it for a while been a lot of gamers hittin me recently dont do tht kind of stuff i aint a pretty boy and i aint rich bt i do care and for the rite one wel ... more

JOKE TIME
by Dan66, Feb/20/2015 2:59AM

Little April was not the best student in Sunday school.Usually she slept through the class.

my life
by Dan66, Feb/15/2015 8:45AM

I live by myself so it gets lonely somedays...Been trying to find work but there is none......

you have any

where a man can get a job??


kindred spirit
by tapwater, Feb/02/2015 7:27AM

I AM SO TIRED OF BAGGAGE ,ALL THERE LOOKING FOR IS JOHNNY ON THE SPOT SOMEONE TO FILL THE ROLE OF A FATHER OR A BREAD WINNER I HAVE DONE IT BEFORE AND IT IS NOT LOVE IT IS BEING USED, I AM SEEKING A W ... more