LuvFree Users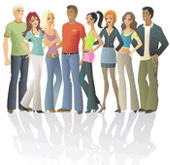 Quick Advice
What is a hot list?
Hot list is created for you search convenience. During the search or viewing profiles you can mark people that you like to be in Hot List. This way you will not loose the track of people that you think are interesting. Later on going back to "Hot List" you can decide if you want to send a letter or even a "Virtual kiss" to those who are in your Hot List.

Read more




New Blog Posts

PATIENCE IS A VIRTUE
by Minia, Sep/01/2014 1:09PM

PATIENCE is VIRTUOUS. In business you can not put DELAYED gratification if you are not patient. sometimes we want to see what we desire to see rather than what is shown to us. Lack of patience will ma ... more

Are you the one??
by simply_cute, Sep/01/2014 12:28PM

I enjoy being single, but I loved getting married someday but still I haven't found what I'm looking for.. So now I'm taking applications for a boyfriend.. He must be: > Single, never been married ... more

last summer weekend
by NIKKY398, Aug/31/2014 8:16AM

I hope everyone enjoys the last bit of summer weekend


Great Support Service
by Femme999, Aug/30/2014 4:21AM

One from the best support I've ever met at online dating . They are attentive and reply in time ! Thank you !

FOR SERIOUS GUYS ONLY..
by simply_cute, Aug/29/2014 3:38PM

It's been almost one year since i joined here but still I haven't met the guy that I'm looking for. I'm tired of saying they like/love me but they can not come here to meet me.. So now i will only ent ... more