LuvFree Users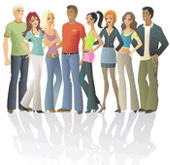 Quick Advice
How to disable and enable comments on my profile?
Log in to the site using your nickname and password. Then press button "My profile" in the top navigation menu. On bottom of opened page you will see "Allow profile comments". Choose necessary option. Then press button "Save Changes". It's done!

Read more




New Blog Posts

Whe will I meet the RIGHT ONE for me??
by simply_cute, Dec/19/2014 2:50AM

When will I meet the right one for me here?? Is there really someone for me here?? Someone who will get me out on this site, a TRUE and SINCERE GUY.. So if you don't wanna lose the opportunity to meet ... more

Chat room..
by LILRED50, Dec/11/2014 5:49AM

1 comments

Every time I have gone to the chat room here since I joined this site, no one is ever there. What's up with that people?



Where are all the real men at????
by LILRED50, Dec/11/2014 5:46AM

Life is what you make it. Too many games played by people on dating sites. When things don't go the way they want them too, well they run away like scared little boys. So like I said...where are the r ... more

Perfect relationship??
by simply_cute, Dec/07/2014 5:36AM

It's not about having the perfect relationship, It's about finding someone who will be there through everything without giving up but how do you know if he/she is the right one for you if he/she is t ... more

do u belive that true love is somwere out there
by rosebud200, Nov/19/2014 3:24AM

it use to be that u dated fell in love with eachother I think times have changed now it don't look like any one is really wanting the I love yous well this women does want the I love yous