LuvFree Users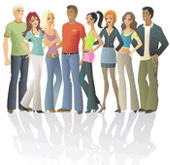 Quick Advice
What virtual kisses are for?
You can look at "Virtual kiss" like the tool to begin a conversation. In a lot of cases it is difficult to write a letter first. So by sending a "Virtual kiss" you can let the person know that you are interested in them.

Read more




New Blog Posts

A Man!!
by Minia, Jul/15/2014 9:07AM

If a man be endowed with wholesome and generous mind, this is the best kind of nobility.

Exactly Right For You:)
by Minia, Jul/12/2014 3:40PM

I no longer believed in the idea of soul mates, or love at first sight. But I was beginning to believe that a very few times in our life, if you were lucky, you might meet someone who was exactly righ ... more

What She Wants!
by Minia, Jul/07/2014 11:11AM

She's not after your car, your money and gifts. But what she wants is your time, you smile, your honesty, your effort and you choosing to put her as a priority.!!!

summer holiday
by Mulan, Jul/06/2014 9:08AM

It is July, the hottest season in Chengdu. But this year we are lucky. A lot of raining at night washed away the heat of days. The climate is becoming mild, not too hot. I like this summer and hope to ... more

Christ's Pattern:)
by Minia, Jul/04/2014 8:48AM

It is crucial that the getting to know stage of a relationship if ever should be based upon Christís pattern, meaning it should always be the man who will initiate not the women.