LuvFree Users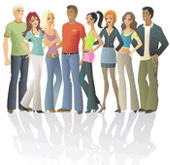 Quick Advice
How to show/hide "Friends list" in my profile.
Log in using your nickname and password. Click "My profile" in the top navigation menu. On the bottom of opened page you will see "Public Friends list". Choose wanted option. Then click "Save Changes". It's done!

Read more




New Blog Posts

Looking for my friend / partner /soulmate
by Jill, Jul/31/2015 3:41PM

I have been on a lot of dating sites and still looking for that Special Someone...???? but not Nothing.... !!! I heard from a friend this site could help me find that special some to come into my lif ... more

HELLO
by Jill, Jul/31/2015 2:23PM

I'm new to this site, and I just want to say Hello to everyone here



hi
by Lizj, Jul/04/2015 4:21AM


Sigh.
by Mai_aries27, Jun/21/2015 5:29AM

Have you ever felt that you have so much love in your heart, and so much to give, but you always end up alone because you always end up with the wrong person? Itís like the fate is against you and do ... more

Greetings to the four corners of the globe!!!
by Reeyan, Jun/08/2015 3:40AM

My first time here. Hopefully I'll be able to meet new and great friends in here. Just message me anytime...Till then...Adios!