LuvFree Users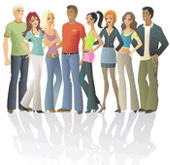 Quick Advice
How to find person by their Nickname?
To do that click "Search" on the top of navigation menu. In the box "Search by Nickname" enter Nickname and press button "Search" in that box. If our site contains that nickname, then you will see him/her right away.

Read more




New Blog Posts

hi
by Lizj, Jul/04/2015 4:21AM


Sigh.
by Mai_aries27, Jun/21/2015 5:29AM

Have you ever felt that you have so much love in your heart, and so much to give, but you always end up alone because you always end up with the wrong person? Itís like the fate is against you and do ... more

Greetings to the four corners of the globe!!!
by Reeyan, Jun/08/2015 3:40AM

My first time here. Hopefully I'll be able to meet new and great friends in here. Just message me anytime...Till then...Adios!

i am here again
by juliskajuliska, Jun/06/2015 11:48AM

Hello Friends


shy girl looking for a friend
by Irenejoy, May/28/2015 10:55AM

I am looking for a friend, but one thing I don't like is men who message you and say "you are sexy, you want sex and money". I am like, "what do you think of me, a prostitute?". See, it turns me off ... more