LuvFree Community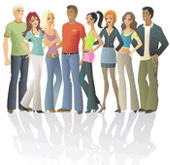 Quick Advice
If I deleted the received message will it be deleted from outbox of sender?
No. If you deleted received message it will stay in the outbox of the sender. By receiving message you can delete it from your inbox but not from outbox of the sender.

Read more

Why other users here they not put or show their pictures/personality?
Why other users here they not put or show their pictures/personality?
by Justme_ria071, Apr/09/2017 7:21AM

Everytime I logged here I get sometimes a messages. But the other they not show their pictures.... why you hide your personality, identity? oh pls. don't hide it you know what this is a first step to know us each other/getting to know, to share each other.... when you put or show who you are.... so don't be shy and don't hide it "the true you...."

Comments
[?]
By Gab, Apr/10/2017 9:21AM

do you have any problem with people here that dont have any pictures? (just asking)


By Justme_ria071, Apr/10/2017 3:45PM

No... I dont have any problem to those whose here in this site all I want is to see their pics. In their profile, to know more if he/she is good or bad person... and you why you hide the real you expose it who you are girl or else you had a problem with someone else... here!!!


By Gab, Apr/12/2017 4:14PM

Then what are you going to do if WE (those who dont have photos) choose not to upload pictures here? r u going to BLOCK us? so, is this your standards of how good and bad the person is?..let me tell you something, you cant JUDGE people here in accordance with their pictures, you cant tell "oh she has pictures on her profile so, she is good!" or " oh, he doesnt have any pictures, so, he is bad"..things will never gonna work out that way! i dont need to expose and tell the whole people here how BEAUTIFUL I AM, thats the reason why i choose not to upload any pictures here because i believe if theres a MAN who really likes me, he will gonna chase me , continue sending me message even if he dont have any idea how i look like. IM NOT HIDING AND I DONT HAVE ANY PROBLEM IN ANYONE ELSE HERE...do you have any problem with me?


By Justme_ria071, Apr/13/2017 2:53AM

Oh.... that's what I've got inside of you don't be so affected what i write on my blogs hey, your not the. only users/guest here it is to all who'se finding their luck. Hhhhmmmm so its good to know better what's or who the real you....☺😉👍


By Gab, Apr/13/2017 5:13AM

you can just simply ignore people with NO pictures if they "MESSAGE" you!


By Patrarkus, Apr/25/2017 8:07PM

Well put!