LuvFree Community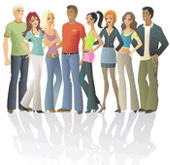 Quick Advice
How to find a person by username?
Visit our search page and type a username into "Search by username" box and then click at the search button. If the profile is active, it will appear and you can click on profile. If you got no results, it means the username is not in our data base

Read more

Philippines
Free dating Philippines


Red2ma2
woman 37 y.o. from Makati, Philippines
hello
I am real just talk to me and you'll get to know me. I just hope that you would give me the same courtesy of being real and honest. I am not here to play so if that is what you want to do then please stay away from me as I am allergic to your kind.
longhair143
woman 33 y.o. from Tacloban, Philippines
Looking for friends
Im simple but love adventures and being close to nature or beach.I would like to spend a peaceful life where everyday i can see trees and smell fresh air.
milesaway
woman 42 y.o. from Cebu, Philippines
hoping to find friends and generally nice people
Email me and I will let you know what I'm about. if you ask me a question i don't know i will not going to answer it. sometimes the questions are complicated and the answers are simple. One of my very few habits is to show love and be grateful for the people and things in my life so you can b...
more
Gigilove
woman 51 y.o. from Zamboanga city, Philippines
Hi I'm Geraldine from Philippines I am 51 years old
I'm single mom..with 4 kids Simple but attractive.I'm fit I like music I'm separated 5years.
cherrishmae555
woman 23 y.o. from Cebi, Philippines
I'm here for serious and long term relationship
I'm healthy and fit woman ..I love cooking and love adventures too... I do exercise every day.., I love to play some of music instruments., I love spending time with my family..,
IamPINAY45
woman 45 y.o. from Cavite, Philippines
I am still hopeful..in finding my match
I am lady who loves sports..biking, badminton, hiking and out of town trips with close friends. Simple but an active person. I wish to find someone whom I can grow old with.
iammai
woman 24 y.o. from CEBU CITY, Philippines
hello im mai, im 24 years old i am from the philippines
I am mai im 24 years old and i am from the philippines.If you want to know a lot about me you can ask me anything. Feel free to messge me
SeptemberG19
woman 38 y.o. from Cagayan de Oro City, Philippines
Can you be my "COME and STAY" in this world of "PEOPLE COME and GO"???;
AM ... Too honest to be misunderstood.. Too explicit to be vagued.. Too strong to be vulnerable.. Too outspoken to be reckoned.. Too cautious to be reckless.. and Too experienced to be immature..
M0310
woman 36 y.o. from Bacolod, Philippines
Looking for a Partner
I am a Filipina looking for my partner. I am single, kind, honest, understanding, Godfearing. I know how to cook food Filipino didh like adobo, pancit, etc.
Setaside
woman 43 y.o. from Cavite, Philippines
Looking for someone who really cares..
It's good to let someone knew me better through messaging me, than i write it down here. I can easily write good things about me. I know who i am, but it is best to let someone knew who am i the way i communicate and exchange messages. I hate judgemental people especially those who i just met in a f...
more