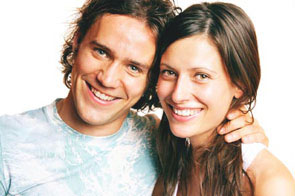 How to meet more people online
Our free online dating site was created especially for you so that you can meet new people, share your interests, find new friends, and maybe even life partners. In order to be successful in meeting people, you don't need to wait for someone to message you. Be bold, take the initiative! Write to any users that interest you - after all, there's no such thing as having too many friends. Talking with people from different countries will definitely increase your life experience, too. Your new online friends can listen to your problems and maybe give you some helpful, friendly advice. You'll be able to share your latest news, talk about work and your noisy boss, discuss the weather and meet people who share the same interests.
Our dating site is a safe way to communicate with people. If you find that you don't want to continue communicating with someone, you can simply block them as an unwanted user. We also don't advise you to share your personal info, such as your real name or e-mail address, until you get to know a person better. Please pay attention to those who send you a message with their e-mail address right away and asking for yours in return. If you give your address away, you may find you'll also get sent many unwanted e-mails and spam messages, which is why communicating through the safe e-mail system within the site is the best way to ensure you'll be safe and your details remain confidential.
Besides exchanging letters, you can also use web-cam chat, which our dating site offers. This feature is also absolutely free. This is a big plus, since you can hear AND also see another user if he/she isn't too lazy to turn their camera on. In order to communicate in the chat rooms, you and your friend should to be online at the same time. If you both live in different time zones, one of you will have to prepare enough coffee to keep going :)
Our chat has a system which allows you to have your own private room which is password-protected. You won't be disturbed by other users from the public lobby as private rooms are for invited users only.
We want our dating site users to be active and to share their thoughts. Why not tell our community some jokes or stories, or let them read part of one of your new poems, which you can do by adding a blog to your profile page? Spark up some interesting conversations by posting comments on a blog that you found interesting.
We hope every user can find exactly what they need, or at least spend a fun time using our safe mailing system, video chat and blogs. Be active on the site and you are sure to be successful!