WolfofNeptune
WolfofNeptune allows only LuvFree users to view this photo. Please login to view the photo.
A geniune and affectionate person. I am a bit shy but I have so much love to give.
| | |
| --- | --- |
| I am a | Woman |
| From | Châtellerault, France |
| Age | 30 y.o. |
| Body type | Slim |
| Ethnicity | Caucasian |
| Religion | Christian |
| Marital status | Single |
| Children | No |
| Want children | Maybe |
| Education | High School graduate |
| Occupation | Student |
| Speak | English |
| Smoker | No |
| Drinker | No |
| I look for a | man, 18-24 y.o. any ethnicity for friendship, relationship, romance |
Last login: 3 months and more
More about me:
Welcome to my profile :)
My name is Marina and I am a student from England. I would like to find someone with similar interests to myself and someone who is open-minded.
I welcome all sorts of people, and I only judge on personality; race, age, gender, sexuality, and background don't matter to me.

Well, on to my interests...
Firstly, animals are the central interest of my life, and I adore all kinds, particularly the ones that are abused and exploited. Due to both ethical and health reasons, I am a vegetarian, and to be honest it has made my life so much better :)
As a Libra, justice and equality is what I want more than anything, and I am very concerned for both animal and human welfare worldwide.
I think of everyone as equals and I am willing to offer friendship to those who have experienced rejection and pain due to their race, age etc...

In my spare time I am generally very artistic, I enjoy modelling clay, painting, and drawing (when I am not on this site writing about my interests).
Art is a medium where I can express myself fully and it is enjoyable.
I am deeply interested in astronomy and learning about the cosmos.
Chinese and Western astrology are another area of interest I enjoy discussing....
I can usually talk about any topic with people without getting bored.

My Personality...
Me? Oh yeah..
Well, it is sorta hard to talk about yourself accurately because you only see how you see yourself, and not how others see you.
Anyway, I am accepting, welcoming, and warm to all people, so don't be shy around me :)
I am very loving and deeply affectionate to those close to me, I enjoy listening to people's testimonies and stories.
I can be rather strong in my opinions when it comes to moral and ethical issues, but as long as someone has a good arguement to back up facts, then I will listen.
I am, and always have been, tied to my morals, and will do and say what I believe is right.
I am protective of those I love, and I also enjoy having a good laugh with someone with a great sense of humour.

Unfortunately I have been hurt and betrayed so many times that I often doubt love and doubt people. I find it hard to trust completely, but that makes me no less welcoming.

Lastly I like ice cream :) irrelevant but ok...

If you have any questions, feel free to contact me.
About my ideal partner:
I want to find someone who is kind, thoughtful, romantic, loving, and someone who genuinely loves me for me.
Things I value highly in a man is honesty, open-mindedness, and selflessness.
And someone who isn't sexist please :/
It would be good if we had some of the same interests, but I don't mind if you don't.
Physical appearance does not matter much to me, just a kind guy who respects me, makes me laugh, and most importantly, loves me with all his heart. And I will give all this in return. :)
My interests:
LuvFree Community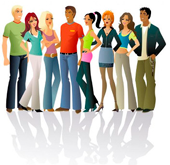 Total: 156026
Users by country
US dating