LuvFree Community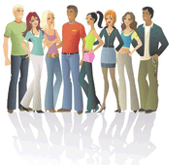 Quick Advice
How can I view my own profile as it appears to other users on LuvFree?
There are two ways to do this. The easiest way is to log in to your LuvFree account and once on your "My Panel" page, look in the "Manage profile" section in the upper right corner and click the "View profile" button. The second way is to use the search function. Click the "Search options" link in the Quick Search box to the right of your "Manage profile" section and use the "Search by Username" function at the bottom of the page. Type in your username to find your profile and view it just as you would with anyone else.

Read more

Czech Republic
Free dating Czech Republic

janet677
woman 39 y.o. from Ostrava, Czech Republic
I am looking for nice man
I am seeking nice man for relationship and later marriage .I am very nice and sensitive person.I love life and I am watting for the real love.I hope I will find you.

E5150
man 34 y.o. from Brno, Czech Republic
Who's talking?
Hi, I m looking for a friend to talk, share interests, visit culture events (art exhibitions) and more...

) Is there anybody speaking english (little - at least) and willing to hang out? ;o) Looking forward!
TomFin
man 30 y.o. from Prague, Czech Republic
Hi i am 23m looking for long time relation you can know about me when we meet :)
Well I'm quiet at first , I like to have fun, I'm nice , kind, honest, great listener, I love the outdoors when I have the chance to get out lol camping, I would like try climbing , hiking, stuff like that I'm currently still studing college I always try to put others needs before my own
alpycluj
man 39 y.o. from Brno, Czech Republic
Pozitiv , and verry funny dancer
I like intersant and very funny girls Ich mag sher interesante und tole frauen !Ich warte disch ....mehr wirds du efaren zusammen mit mir...

Stanislava
woman 46 y.o. from Prague, Czech Republic
Stanislava
A you ther mr. bombastic ??

I can find you there ?
dexeded
woman 25 y.o. from Brno, Czech Republic
I look for friend
Hello, I look for some friends. I want to enhance my English. I normally girl, I live in Czech republic and I study English in a school. I study nursing.
Tomino410
man 30 y.o. from Krnov, Czech Republic
Looking for an angel
Hi. My name is Tom and I'm looking for some friendly girl. I would like to here a friendship or a partnership found. If you are interested then write me.

Vlad_Dracul
man 29 y.o. from Brno, Czech Republic
One word frees us from all the weight and pain of life: That word is love
Where to start. I love travelling, sightseeing, nature, space, science, art works, friends and more than more things. I believe stress is something wasteful. Enjoy the colors of life, and if you can't see them make your own! I am very, very honest. Let's all tell lies that make the world a more beau...
more